How to Create Highly Effective White Paper in 2021 (Simple Guide)
Blog
How to Create Highly Effective White Paper in 2021 (Simple Guide)
16th September, 2021
White papers are a blessing for customers who look for expert analysis. For companies, it is a method to show competency and strengthen authority in the field.
Crafting an influential white paper is not an easy ride, but with our tips, you can succeed.
What is a White Paper?
A white paper is a lengthy guide on specific topics. It is a marketing tool that demonstrates expertise pushing readers towards action. The document is
in-depth, researched, and authoritative. It dives into problems, trends, and addresses the way of solving them. The solution also could be the service provided by the company too. So White paper can be a clever way to promote services.
White Paper vs. Brochures
The brochure is the element of traditional marketing that strikes on sales pitches. For readers, that may seem odd compared to the benefits content provides. You can prove your worth by showing expertise because flashy words won't affect people like a deed. The white paper can help with that.
What is the Goal of the White Paper?
The content of the white paper should showcase your expertise and promote your product. The goal is to inspire current and future customers in the decision-making journey.
Moreover, customers agree to share their personal information to receive valuable content.
What are the Benefits of White Paper?
Build Trust and Establish Topic Authority
Expands Brand Visibility
Get Inbound Traffic
Collect E-mails
Convert Sales
What is The Difference between White Paper and E-book?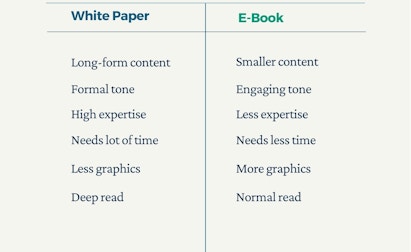 How to Create White Paper
Create Personas
The audience persona is the universal record of your ideal customer on:
Demographics- Gender, age, ethnicity, income, etc
Goals and Values- What are the goals and standards or judgment they stand on?
Behaviors- How do they act in specific situations?
Challenges-What are the challenges they want to tackle to simplify their daily lives?
Source of Information - What channels do they use to receive information? (Social media, digital media, tv, magazines, personal experiences)
Find Topics Your Personas Care About
Before you start, it's essential to understand who your personas are and what they care about. It would be best if you matched their interest with your content. Work hard to understand the challenges and pinpoints of your personas! It will bring you many insights.
Research your Blog Articles and Transform It into White Paper
Researching your Blog content can be the most convenient way for you. Review your current posts and dive into the following questions:
Which one is performing?
Does the blog post have the potential to transform into White Paper?
Do you have enough resources to produce an in-depth guide?
If the topic had a good response from the audience, they would be interested in exploring more.
Research Topics from Social Media
Discover the channel where your target audience interacts. Monitor comments section and outline possible topic ideas. 
There are several platforms where it is possible to understand people's interests, question marks, and problematic issues. 
All you have to do is:
Discover the Channel Your Audience Interacts
Monitor Comments/Reviews Section
Pull Possible Topic Ideas out of It
Research Content about The Topic
Identify the Value You Can Add to It
Research Industry Data
As already mentioned, White Paper relies on statistics and studies. Find out if there are proper materials to provide you with more reliability. If it is, then the topic is popular in your industry.
Organize the Draft
You will need to combine large amounts of information into a white paper. So try to sort out the outline first and identify the critical factors valuable to people. Do not switch to writing as soon as possible. White Paper is a document that requires a structured approach.
Include Table of Contents
Table of Content walks customers through the text. They can jump on the desired headings or subheadings. It is an essential element of white paper, as it offers readers to meet various matters.
Make White Paper Mobile-Friendly
The majority crawls through search engines on mobile devices. Thus, your product must be mobile-friendly. For people, time is the gold, and they don't want to waste a second of it waiting for any response. They will drive away because various options are remaining out there.
Title
Originate SEO optimized title that can draw attention. Titles are one of the most important ranking factors. Also, if your title is not good enough, searchers will hop on another page.
Here are quick title tips:
Include Benefits
Add Urgency
Add Year 
Add Numbers
Keep the Formal Writing Tone
As you know, the white paper allows the reader to deep dive into an issue. It's a text-hefty document that tends to have a formal writing tone. 
First, Write Only Then Edit
Writing a white paper needs Wholehearted devotion. Yet, you need to function smart. So the best choice would be to write everything following the outline and then edit the texts.
Visualize Data
You can cool off text-heavy material by including visual data. It will improve the readability of the white paper. Effective data visualization breaks down the information in an easy way.
What to Avoid in White paper?
Always Avoid a Sales Pitch
Do not let your customers think that you are trying to integrate sales pitches in your text. Your expertise will speak for you.
Do not Lack a Research
If you lack the research, then it does not make sense. As we went through, the white paper is a research-centric document. Aggregates statistics, searching for data, or conducting research is challenging. Still, you can not escape it, and the result will be worth the effort.
Do not Ignore the Design
What matters the most in the white paper is text but do not ignore the design. People tend to be lazy when they face long-form pieces. So, try to develop a smooth design for your white paper.
Where to Write Your White Paper?
How can blogs use white papers?
The white paper can be a great asset for developing potential blog topics. As we have already gone through, it is long-form content covering various issues. You can transform them into blogs that might occur interest among your audience.
Do you have any questions about your company content?
Our experts will be happy to advise you.
Explore related posts
16 Tips to Create How-To Guides
People come up with problems and need to find solutions along the way. Internet users ask search en ...
17th September, 2021
Read More
5 Things You Should Know Before Writing Blog Interviews
What are Blog Interviews? A blog interview is a discussion involving Questions & Answers. The conten ...
16th September, 2021
Read More
Categories
Recent Posts
Tag Cloud
Follow us